W poprzednim artykule skupiliśmy się na tym, jak przygotować koci dom na przyjęcie nowego psiaka. Wymieniliśmy kilka rzeczy, na które należy zwrócić uwagę w momencie łączenia naszego kota z nowym psim pupilem. Koniecznie tam zajrzyjcie! Dzisiaj skupimy się na tym, jak zadbać o to, by zwierzaki nawiązały pozytywne relacje.
Łączenie stada
Zanim skupimy się na regulowaniu relacji między kotem a psem, warto poświęcić kilka akapitów temu, co nazywamy "łączeniem stada". Upraszczając, chodzi o to, jak wprowadzić nowego psa do domu, aby nie zestresować kota i aby nie zaprzepaścić szans na zbudowanie zdrowych, bezpiecznych i wesołych relacji pomiędzy zwierzętami.
Wymiana zapachów
Kluczową rolę odgrywa początkowa izolacja zwierząt od siebie. Odpowiedzialny opiekun wie, że zwierzęta zapoznają się za pomocą zapachów. Na te właśnie wymianę zapachową warto poświęcić sporo czasu. Regulować relacje kota z psem możemy właśnie za pomocą ćwiczeń izolacji.
Przykładowo: kot mieszka w jednym pokoju, przygotowanym specjalnie dla siebie. Jest tam kuweta, jego miseczki, skrytki, zabawki. Pies zaś chodzi po przedpokoju i reszcie mieszkania. Kiedy pies wychodzi na spacer, kota wypuszczamy z jego pokoju i daje mu szansę, aby obwąchał całą przestrzeń, wcześniej zajmowaną jedynie przez psa. Gdy pies wraca ze spaceru, może na nowo obwąchać miejsca, w których tym razem przechadzał się kot. Jest to jedno z podstawowych ćwiczeń tzw. wymiany zapachowej pomiędzy zwierzętami. Odbywa się ono bez kontaktu wzrokowego zwierzaków i powinno potrwać – zależnie od przypadku – od 2 do 7 dni.
Kolejną rzeczą, która pomaga zwierzętom zapoznać się, jest przenoszenie na nie ich własnych zapachów. Możemy pocierać pyszczek kota bawełnianą chusteczką i nanosić ten zapach na psa – od ucha przez bok ciała aż po ogon. Podobnie możemy czynić z przytulankami, które gryzie nasz pies, zostawiając na nich swój zapach. Pokazanie takiej przytulanki kotu jest dobrym ćwiczeniem na zapoznanie go zapachem psa. Uwaga! Nie pocieramy kota zabawką tylko prezentujemy mu ją do własnego obwąchania.
Przestrzeń mieszkania
Kolejny ważny punkt to wspomniane w poprzednim artykule miejsca wyżej dla kota. One też służą regulacji samopoczucia psa i kota. Jak to działa? Jeśli kot może znajdować się ponad psem, mieć swoje miejsca w górnej części domu, czyli może przechadzać się po stole, kredensie lub po specjalnie zamontowanych półkach, będzie wówczas spokojniejsze i nie będzie tak szybko przed psem uciekać.
Warto pamiętać że relacje pomiędzy psem a kotem w większości zależą od kota. W największym skrócie: jeśli kot nie ucieka to pies nie będzie go gonił.
Nasza praca polega więc przede wszystkim na tym, aby tak przygotować kota (sprawić by był zrelaksowany w obliczu nowości i zmian), aby nie czuł potrzeby ucieczki. To znacznie zwiększa szanse na to, że pies nie będzie go gonił, a co za tym idzie: nie będzie go straszył i zniechęcał do siebie.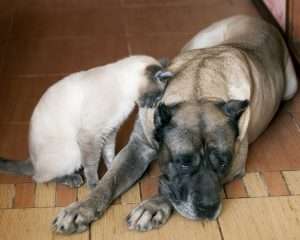 Do dyspozycji mamy szereg innych ćwiczeń związanych z budowaniem pozytywnych relacji. Wymienione tutaj ćwiczenia oparte na wymianie zapachów i związane z umiejscowieniem kota w domu (i jego możliwościami dystansowania się od psa) są kluczowe.
Doświadczony specjalista, który będzie wam pomagał w łączeniu waszych zwierząt, dobierze kolejne ćwiczenia w zależności od potrzeb danego kota i psa, ich cech charakteru i osobowości.
---
---