Dlaczego nie można zostawiać psiaka pod sklepem?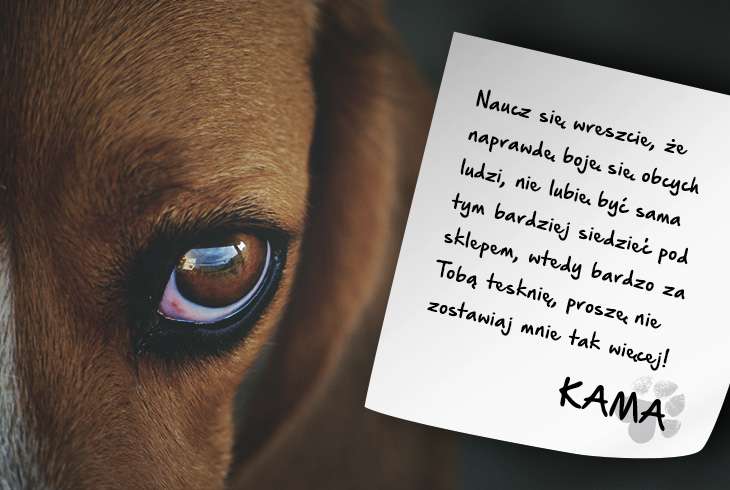 Czy w Twoim mieście, popularnym widokiem jest psiak siedzący pod sklepem? W moim też!
Pupil czeka na opiekuna, który radośnie, kupuje o poranku, świeże bułeczki. Połączyć spacer z zakupami, czyli przyjemne z pożytecznym.. Przyjemne? Tylko dla Ciebie.
Dlaczego? Widok psiaka czekającego pod sklepem to norma.Widok trzylatka czekającego na mamę pod sklepem .. ekstremalnie niepokojące.
Skąd to porównanie? Umysł dorosłego psiaka równa się umysłowi trzylatka. W tym wieku dzieci potrafią okazywać miłość, odczuwają tęsknotę, boją się ciemności, samotności i rozróżniają twarze…Psiak też.
Zostawiając pupila pod sklepem, narażasz go na wiele trudnych sytuacji.
Jedną z nich, chyba najważniejszą, jest kradzież psiaka. Nie widzę problemu w tym, by rozwiązać smycz z poręczy i pójść z nim w swoją stronę. Tzn. ja widzę problem, ale uwierz mi, znajdą się chętni. Szczególnie jeśli jest to psiak rasowy.
Kolejnym problemem, którego możesz nie zauważyć jest olbrzymi stres wynikający z chwilowego, bo chwilowego, ale porzucenia. Wyobraź sobie: maszerujesz dziarsko z psiakiem, trwa spacer, a Ty nagle znikasz. Ty masz świadomość, że za chwilę wrócisz, ale Twój pupil nie odczuwa czasu po ludzku, dla niego to cała wieczność.
Narażasz go na niechęć ludzi, bo dla przykładu: szczeka. Znajdzie się taki, któremu będzie to przeszkadzało. Wtedy równie dobrze może uderzyć lub kopnąć psiaka.
Opowiem Ci coś. W lato na moim osiedlu, zupełnie przypadkiem zauważyłam dziewczynę, która zostawiła swojego pupila pod sklepem. W słońcu, było wtedy około 37 C, przyglądałam się, podeszłam, psiak miło na mnie zareagował, zasłoniłam go przed słońcem, dziewczyna wyszła ze sklepu po 25 minutach. I… zapomniała o nim. W totalnym szoku, zawołałam ją… czerwona, zawstydzona podbiegła.. Próbowała się tłumaczyć: mama w szpitalu, mam dużo na głowie, jest tak gorąco…W tej sytuacji nie byłam wyrozumiała.
Druga historia, jeszcze z czasów, gdy pracowałam w przychodni weterynaryjnej. Był czwartek, pani X z rozgorączkowaniem wbiegła do przychodni krzycząc: Ukradli mi Kropkę! Ukradli ją! A ona jest taka malutka…Jak to możliwe???
Zapytałam co się stało, jak to została skradziona Kropka? (Kropeczka była naprawdę małym pinczerem)
-Spod sklepu, weszłam tylko na chwilę.. i nie ma jej .. Ona jest taka mała…!!!
Poszukiwania były rutynowe: ogłoszenia ze zdjęciem, telefony do pobliskich przychodni wet.. i zupełnie nic..
Minęły dwa dni, Kropka się odnalazła. Się, bo Pani znalazła ją pod tym samym sklepem, przywiązaną do tej samej poręczy. Z karteczką na szyi, a napis brzmiał: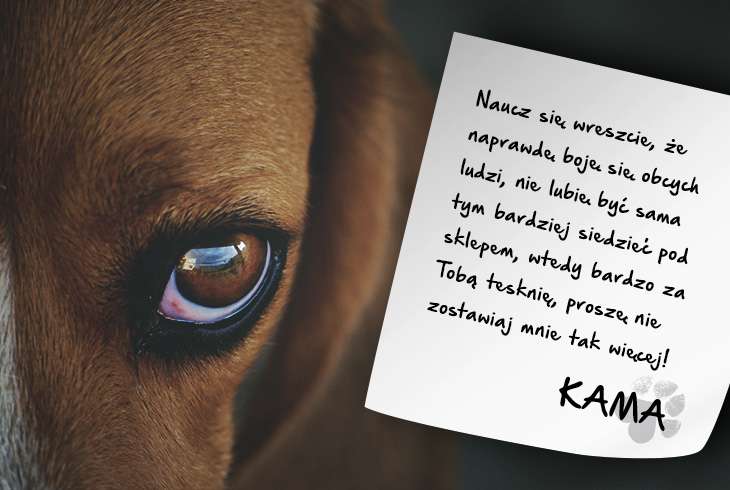 Przemyśl tę historię.
Myślę, że to co najgorsze, naprawdę może się zdarzyć. Twój psiak może uciec wystraszony, ktoś może go poturbować, a przede wszystkim ktoś może go ukraść.
I wiem, że kochasz swojego psiaka. Tylko przyzwyczaiłeś się do widoku oczekujących pupili pod sklepem i nie zauważasz problemu. Dlatego, wiedz, że problem istnieje. Co zrobić jeśli zauważysz taką sytuację? Możesz zadzwonić do Straży Miejskiej. Masz obowiązek, a nie możesz. Sądzę, że tabliczka informacyjna pod sklepem również byłaby wskazana, napis o nie pozostawianiu psiaka w tym miejscu.
Pomysłów na rozwiązanie problemów jest dużo, ale najważniejsze jest Twoje myślenie.
Podsumowanie jest bardzo jasne: szanuj uczucia swojego psiaka, nie narażaj go!
Zmień legendę i pokaż inną perspektywę 🙂